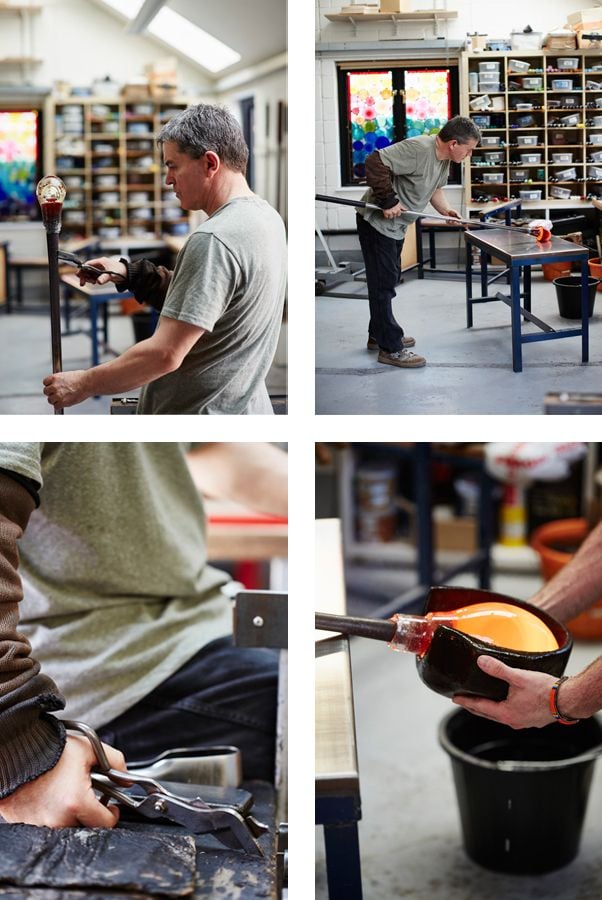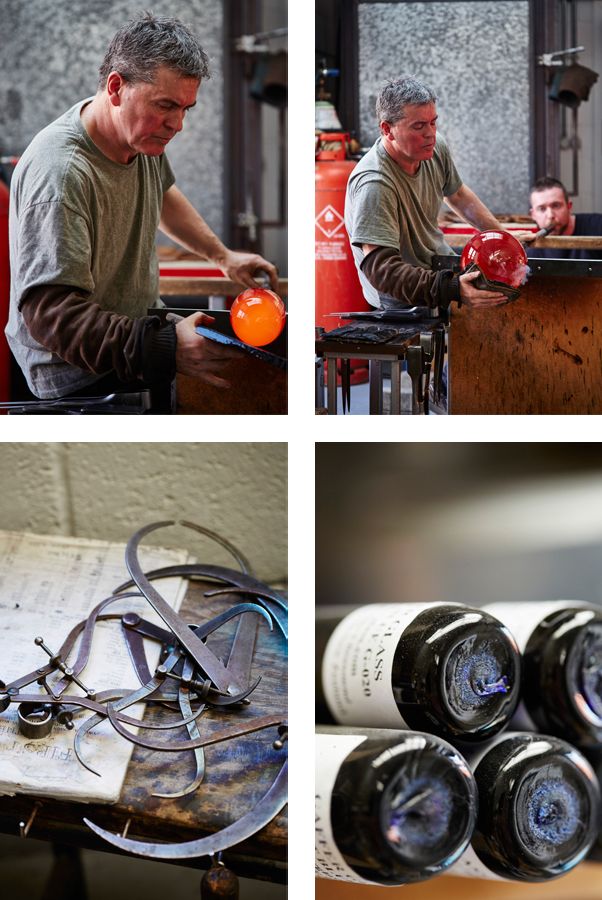 Stewart Hearn London Glassworks is a glassmaking studio specialising in hand-made andbespoke handblownglass. The studio is run by master glassmaker Stewart Hearn, a highlyrespected and award winning craftsman and designer.
He has established a professional practice of thirty years, developed during his experienceof working with some of Britain's most well known glassmakers. He is sole owner of LondonGlassworks.
All aspects of Stewart's work demand high standards of technical skill and design–wheretraditional skills interpret contemporary visions.
In his personal unique work, he is always pushing his craft and skills harder and higher withevery piece he makes. It is his passion to always make the next piece better than the last ...not forgetting the integrity of the design of the pieces and their composition, he issimultaneously dealing with the heat versus the weight of the glass on the iron. Creating hispieces involves speed of thought in making and creative decision, being at one with thematerial, and using his skills and knowledge gained over his 30 years of dedication to thecraft.
The other side to his business is contract and restoration work (which is very demanding ofaccurate tolerances), where he makes work for other people, some of whom have beenclients for over 18 years. Many of the pieces he makes are then matched up to metalwork. Everything conforms to Stewart's design, production and business professional standard,something that was acknowledged amongst UK makers when he was awarded the BalvenieMaster of Craft 2011, Glass and Ceramics category.
London Glassworks is also ableto act as a consultant for associated skills, knowledge andindividuals pertinent to glass manufacture both as a production and bespoke commissioningservice.
A unique range of skills is readily available:
prototyping and design development for product and interior designers
creative translation for artists
job specific sourcing and small batch production tailored for restorers, retailers,manufacturers and engineers
free blown and mould blown option
Stewart Hearn can be found at the Crafts Council's Index of Selected Makers

Stewart Hearn Curriculum Vitae
Born: South Shields, Tyne & Wear, England
1983/86: Sunderland Polytechnic, B.A.(Hons) 3D Design in Glass & Ceramics. OccasionalGlassmakers assistant to CharlieMeaker, Jim Griffiths and Rachael Woodman & Neil Wilkin
1986/88: Assistant to David Kaplan & Annica Sandstrom, Lindean Mill Glass, Scotland
1988/91: Glassmaker and workshop manager at Glassworks (London) Ltd, with Simon Moore,Catherine Hough & StevenNewell
1992/94: Freelance Glassmaker
1992: Glassmaker (Summer)–Baltic Sea Glass, Bornholm, Denmark for Pete Hunner & MaibrittJonsson
1992/95: Part–time Lecturer (Hot Glass)–Buckingham College of Higher Education
1994/02: Set up 'First GlassPartnership' with Bob Crooks, Clapham, London
1999: Accepted for Crafts Council Index of Selected Makers
2000: Designer for Dansk International, USA
2002/06: Set up 'London Glassworks', partnership with Paul Devlin, Walthamstow, London
2006/12: Continues 'London Glassworks' as Sole Trader, Walthamstow, London
2012 to present: Builds bespoke studio, 'Stewart Hearn–London Glassworks', Chatteris, Cambridgeshire